Meetings, Conference, and Event Support
Providing professional and certified expertise from conception to completion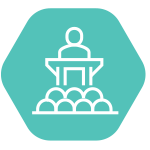 Our conference and logistics staff members have managed conferences, meetings, and workshops ranging in size from 10 to several thousand participants. We maintain a pool of more than 30 full- and part-time professionals, including Certified Meeting Planners (CMPs). Frequently we are called on to manage several meeting tasks at the same time. As a result of this resource pool, we have the ability not only to manage and staff all the meetings but also to maintain our high level of quality.
We are also accustomed to the unique needs of specialized communities including Cabinet-level officials, international experts, underage youth, and Tribal representatives.
Recognizing that both government and private sectors are relying more on technology, we are staffed with several Certified Virtual Event Producers (CVEP) who can help you with any of your virtual conference needs. Our logistics staff members are versed in managing domestic and international events; satellite feeds and high-end audiovisual requirements; as well as ancillary events such as press conferences, poster sessions and expos.
Whether to reduce costs or due to a crisis event like COVID-19, the business model for meetings has transformed, with clients relying more and more on virtual approaches.  Capital Consulting offers our clients access to Certified Virtual Event Producers (CVEP) who have both the training and experience to support your virtual needs, regardless of the complexity or commercial platform.
Our CVEP professionals provide the following support services:
Facilitation so that presenters only need to worry about content, not logistics
Moderation for fielding questions that arise and providing instructions to participants
Personalized dress rehearsals to increase the comfort level of presenters who are less familiar or confident with virtual technology.
Online troubleshooting support
Complex virtual meeting logistics, that may include incorporating virtual breakout sessions.
Real-time polling services during an event
Security protocol guidance and support
Analytics to track access and participant demographics